While we have been super busy this year, beautifying windows from Australia to Hawaii, our blog has suffered and pretty much went into hibernation. Then today we "woke up" and couldn't wait any longer to help answer one of the most pressing question we get from our clients…. would I be better choosing an inside or outside mount roman shade?
Of course an easy answer would be "personal preference", but there definitely ARE other things to consider. Some questions to ask yourself are: What is the purpose of the shade? Is it to provide privacy? To darken/soften a room? Or just to add decorating value? Selecting the right mounting option is important in helping to achieve the look and function you desire.
To help make the decision process easier, here are some of the DEETS on each…
Inside mount shades fit inside the window frame, and can be mounted as deep or as shallow as you like. At Drawn we need a minimum 1 inch depth for inside shades and accurately measuring is "oh so important" as room for error is ~ shall we say "not much". Benefits of inside mount shades are:
• Give the cleanest/most streamlined look
• Show off decorative window moldings (see below)
• Great for windows with no wall space to mount the shade above
With outside mount shades, you gain flexibility because the window frame itself doesn't come into play as much. Outside shades are mounted on the wall, window molding or ceiling (yes we said ceiling) above the window, "wherever you want". Benefits of outside mount shades are:
• Can make a window seem longer/bigger
• Provides the most light coverage
• Great for French doors/windows with shallow frames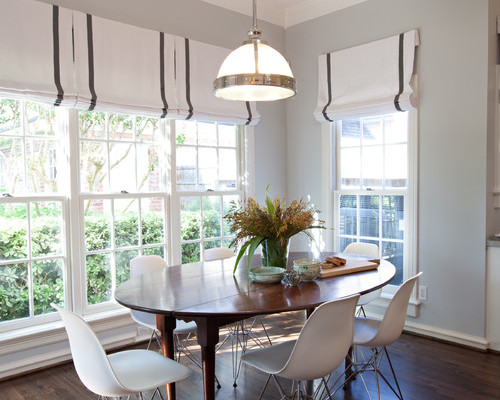 **note how the shades were mounted several inches above the window frame
Another question we are often asked is "what about light coming in?" Inside mount shades generally let the most light in due to the gap in between the window treatment and the frame.
However, since our shades are custom made based on your exact window measurements, this will be kept to a minimum. Overall, you'll find outside mounts will provide for the greatest light blockage (great for nurseries/kids bedrooms) since they can be made to extend several inches above and beyond the window frame.
Still undecided? Try hanging a piece of your fabric above the window frame (outside mount)  and then inside the window frame (inside mount) for a few days. Take note how each style looks at different times of the day depending on the light.  Learn to trust your own eye, it often knows more than you think!