When it comes to dressing your windows, the roman shade remains a timeless decorating option. Interior design trends may frequently change, but the roman shade lives on as a classic beauty that will complement both the look and feel of your room. If your goal is to create a bright, pop of color or simply soften a stark window – the roman shade is a fabulous "go to" home accessory!
Flat or relaxed shades are probably the most common styles made, but there are also London, banded, balloon and hobbled shades to choose from. Even some hybrids in between…. So let's take a closer look at each option to help determine which style will best suit your home décor.
Flat Roman Shades
Flat shades are simple and elegant. They can easily create a traditional or casual look in your room, depending on your fabric selection.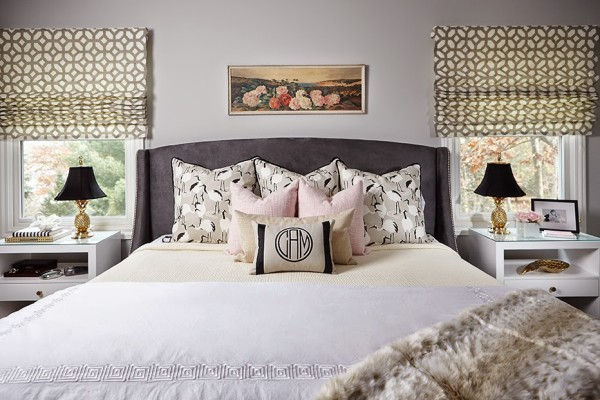 Photos courtesy of abbyminteriors.com
The flat roman shade provides numerous folds, stacked accordion style along the bottom when fully raised. The folds are neat and tidy and give the roman shade a structured and tailored look. (An excellent choice for the Type A personality) Flat roman shades are easy to dress and develop their "fold memory" very quickly.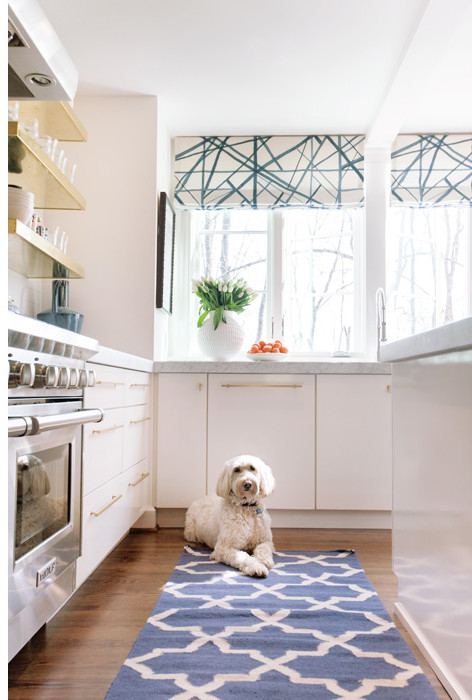 Photo courtesy of pencilandpaperco.com
If you are attracted to big and bold patterns, the flat roman shade is a good option. Large fabric patterns can be centered on each of the shades, so they will  look the same across multiple windows.
Relaxed roman shades
If your style and design leans toward "casual chic", the simple relaxed roman is a good bet. When it is raised, the sides of a relaxed roman shade come up and the fabric folds hang down longer in the middle in a curved manner. It is what we call the roman shade that "smiles" back at you .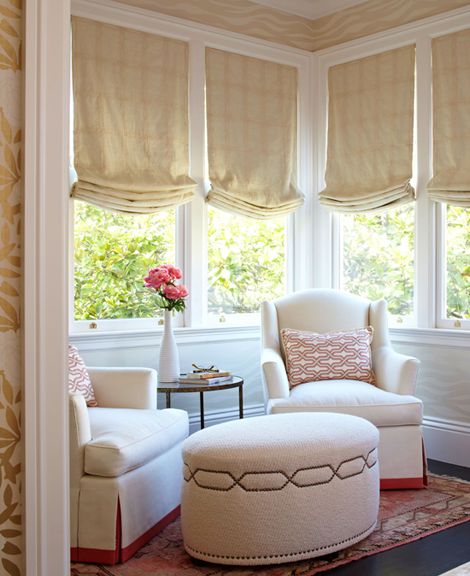 Photo courtesy of traditionalhome.com
Relaxed roman shades create a comfortable mood and are often used in less formal areas like a kitchen, bedroom or den. They are great for nurseries too, as they create a serene atmosphere with a soft finish. While more time is sometimes spent on "dressing" a relaxed roman shade, it can be worth it to achieve the softer look.  Something to consider…when a relaxed style is chosen for a larger window or grouping of windows, multiple scoops will often be required to ensure proper function and aesthetics as shown below.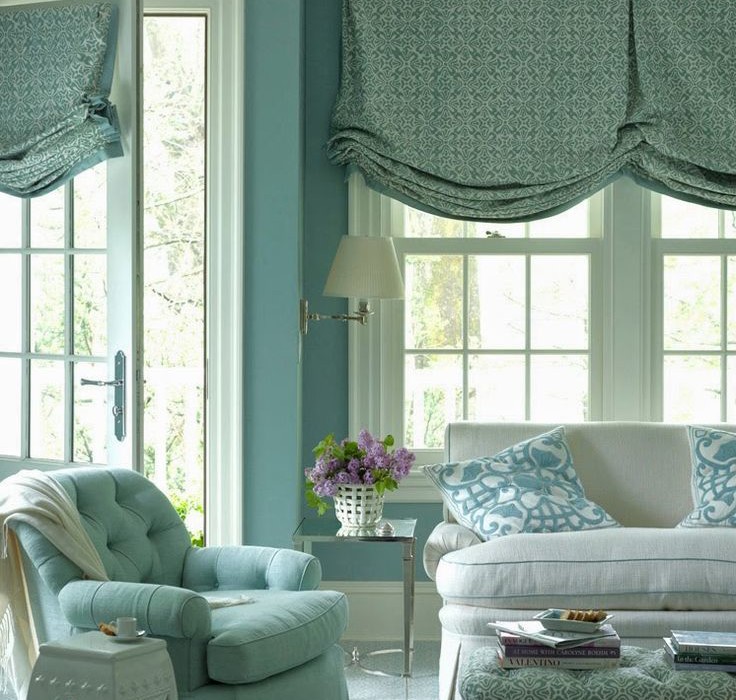 Photo courtesy of houseofturquoise.com
London roman shades
The London roman shade is similar to a relaxed shade with 2 pleats that create a "tail" on each side. Like a relaxed shade, the London creates a more casual, somewhat whimsical feel, and is perfect for bedrooms, kitchens and baths.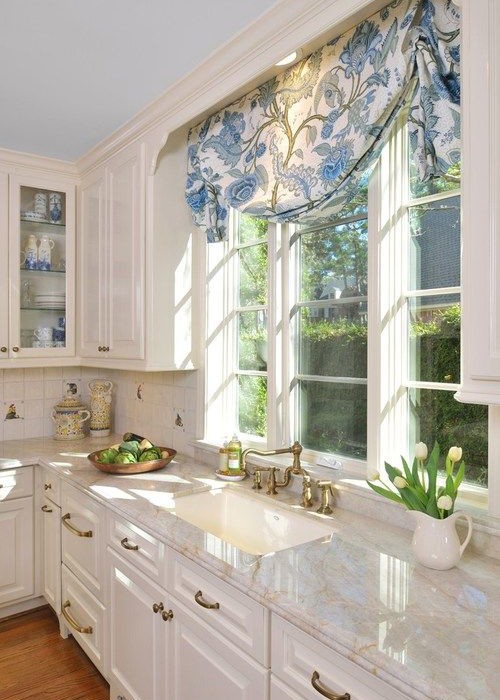 Photo courtesy of carlaaston.com
Keep in mind that dressing a London roman shade can be a little time consuming, so it's best used in places where it won't be raised/lowered daily.  This makes the London shade a good choice for a more decorative accent, like a faux roman shade, than if you need a light or privacy controlling window treatment.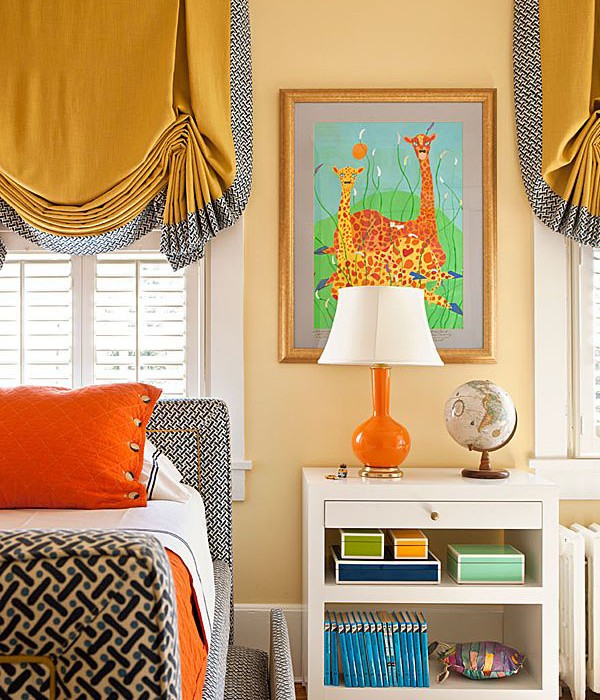 Photo courtesy of traditionalhome.com
Banded and Greek Key Shades
A hot new trend is the banded or Greek key shade. Here a pretty tape trim, contrast fabric or perhaps a grosgrain ribbon is placed along the sides and/or bottom of the shade. The trim can be inset or ran directly down the edges.  Additionally, you have the option of banding one, two or three sides.  Often banded shades are made in a soft solid linen fabric with the trim or banding accenting the edge such as below.  The banding provides a nice decorative contrast and can bring out an accent color in the room.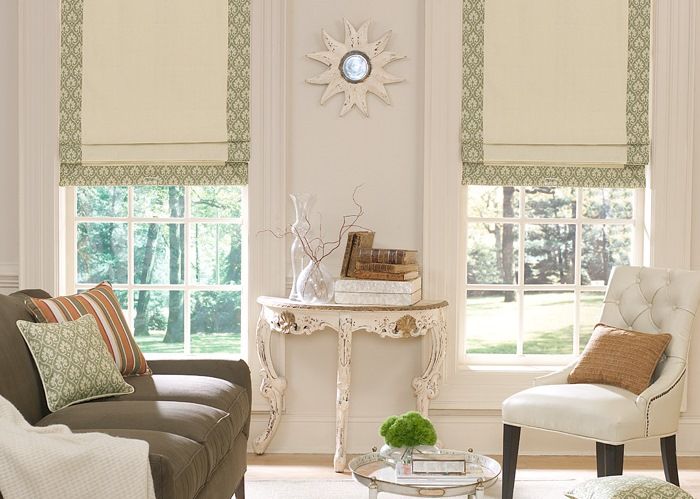 Photo courtesy of irepairhome.com
Below we see a gorgeous, patterned wide tape trim, sewn "inset" along the sides and bottom of a flat roman shade, complement the colors in the bathroom's accessories.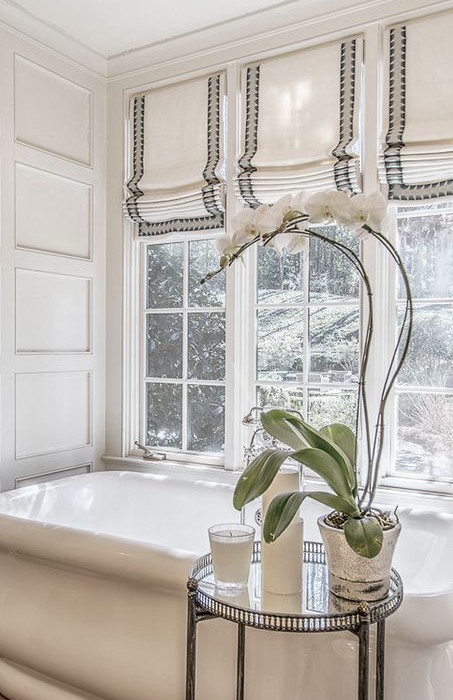 Photo courtesy of this photographerslife.com
And of course there is always the "ever-so-popular" Greek Key style. There are endless options with the Greek Key style, just go on Pinterest and find one you like.  If you are looking for a ribbon to create a Greek Key shade, one of our favorites sites for quality, modern trims is samuelandsons.com.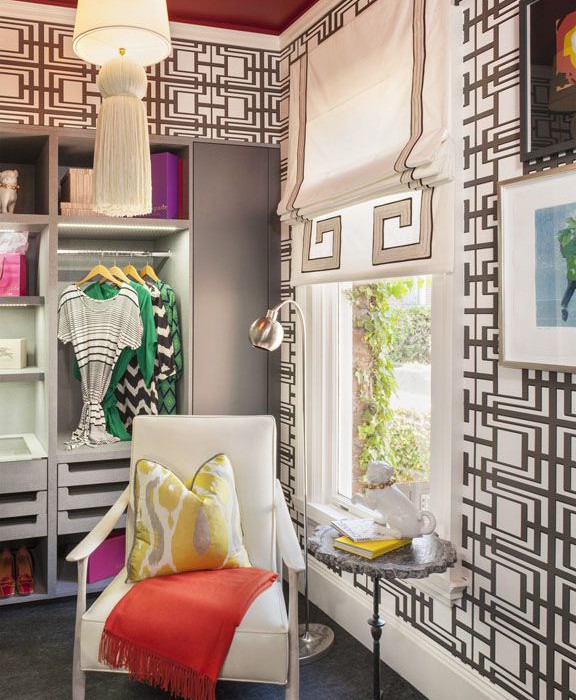 Photo courtesy of stichsf.com
Balloon Shades
The balloon shade can add either a casual or formal look to your window. This shade style is again best if you do not need the shade to be functional, i.e  to raise and lower it. Because of the fullness of the balloon roman shade, more time will be spent dressing this shade to ensure the appearance is conforming. Softer fabrics also work best with this style.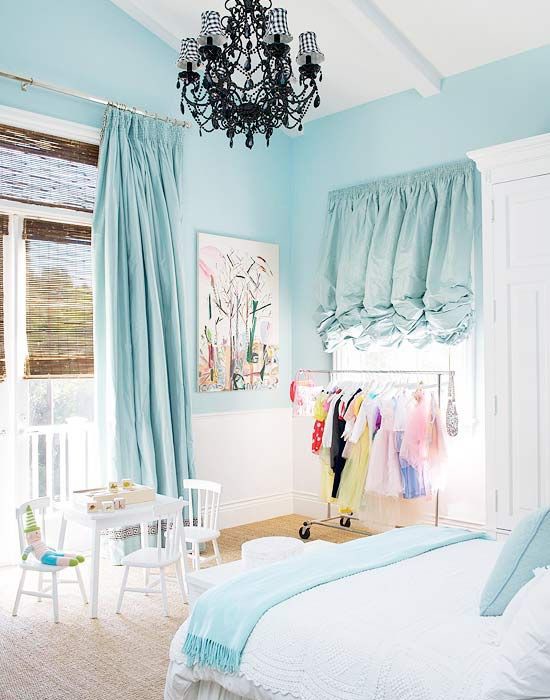 Photo courtesy of bhg.com
Hobbled Roman Shades
If you are seeking a unique design statement from your window treatment, then a hobbled shade may be the answer. With a hobbled roman shade you get nice, soft waterfall-like folds of fabric that look amazing. As you raise this shade, the fabric stacks up at the bottom into neat folds creating a more tailored look like a flat roman..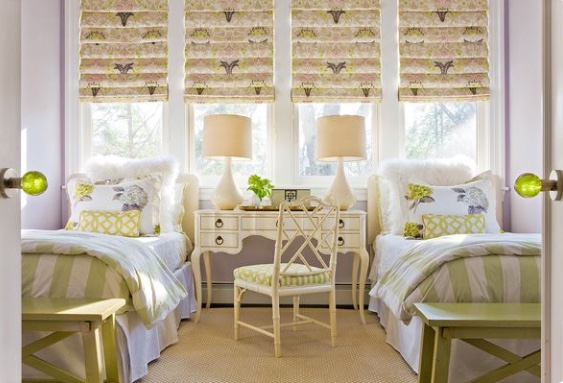 Photo courtesy of decorpad.com
Whichever style of shade you choose for your room, it's sure to make a design statement and reflect your personal decorating taste.. An investment that complements your home, the roman shade will beautify your windows for many years to come. Be sure to visit our Etsy shop for custom quotes and more advice about deciding on the best roman shade style for you!  Next up…..fabric selection.