Whatever your personal design taste or style, roman shades give your windows a finished, elegant appearance that will last for many years. Today we want to answer some of the most common questions we get regarding style, fabrics, functionality and measuring to fit your windows with some fabulous custom roman shades.
What are the benefits of roman shades for my room?
Roman shades are one of today's trendiest and most versatile window treatment. Shades are a decorative home accessory that offer light and privacy control, plus are chic, stylish and can be customized to fit any specific window situation.  From a clean, no-frills flat shade to the more casual relaxed or London style, your beautiful shade in the perfect fabric will be admired for a long time..
Fabric furnishings provide softness, balance and help complete a room. While custom roman shades are an investment, the impact and value they add to a room is often overlooked or underestimated. See here how this coordinating door shade and panels bring out the eclectic beauty of this home's decor.
What is the best style of roman shade for my windows?
While style is mostly personal preference, there are unique features of each to think about. The most popular roman shade styles are flat, relaxed, London (aka tulip) or balloon. If you like a clean, structured look and don't want to spend a lot of time fussing with your shades, a flat style is your best bet. Flat style shades develop their "fold memory" quickly and when raised and lowered, need little adjustment. If you tend to be a little OCD in the décor department, this is likely  the shade style for you.
Relaxed style shades are designed to look unstructured and offer more of a casual look. But they also take extra time to dress or train. By "dressing", we mean once the shade is lowered and raised again, the folds along the bottom will need a little fine-tuning for the shade to look the same as it did before. Similar to shaping  your eyebrows for the first time.  One may spend ample time pinching, pulling and adjusting the roman shade's folds to attain that perfect look.  Future dressings (or shapings) may require less time, yet there is still some maintenance/upkeep to get the shade trained.
London style shades or balloon style shades are a more whimsical option and require the most time and attention to setting the folds. They also require the most fabric to construct.  Often we recommend this type of roman shade in areas where it won't get raised/lowered very often.  Additionally, a faux (fixed) style of this shade type is a great choice here.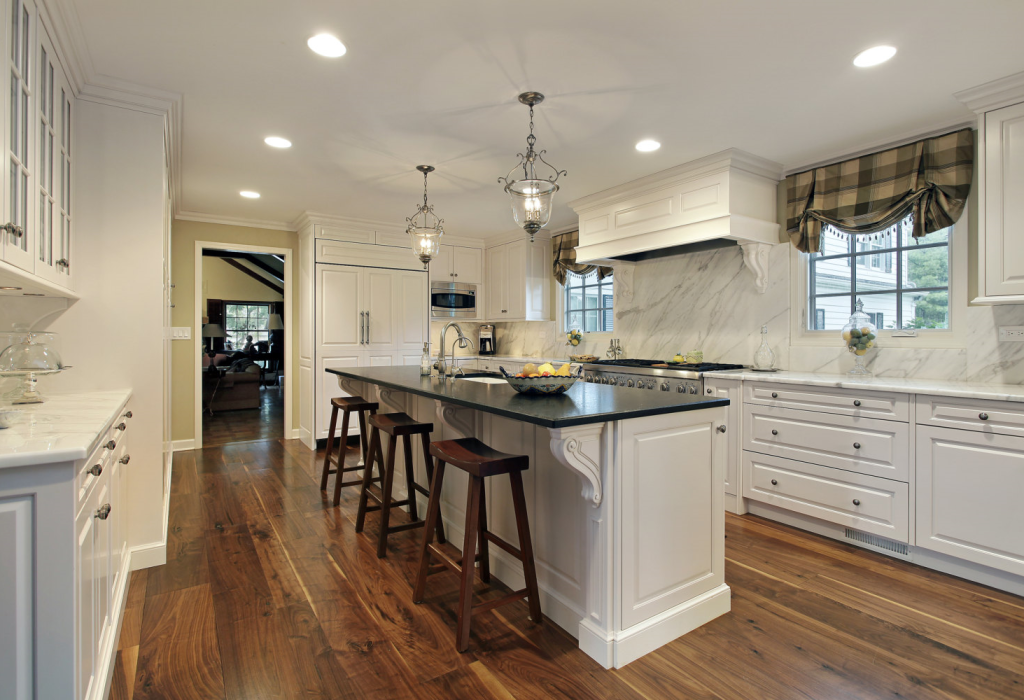 The next issue to consider is function vs. décor.  You'll need to decide if you want a "fully functioning" roman shade (one to raise and lower) or a "faux" roman shade.  A faux roman shade  is stationary and used primarily for decor purposes.   A functional shade is beneficial for privacy and light control.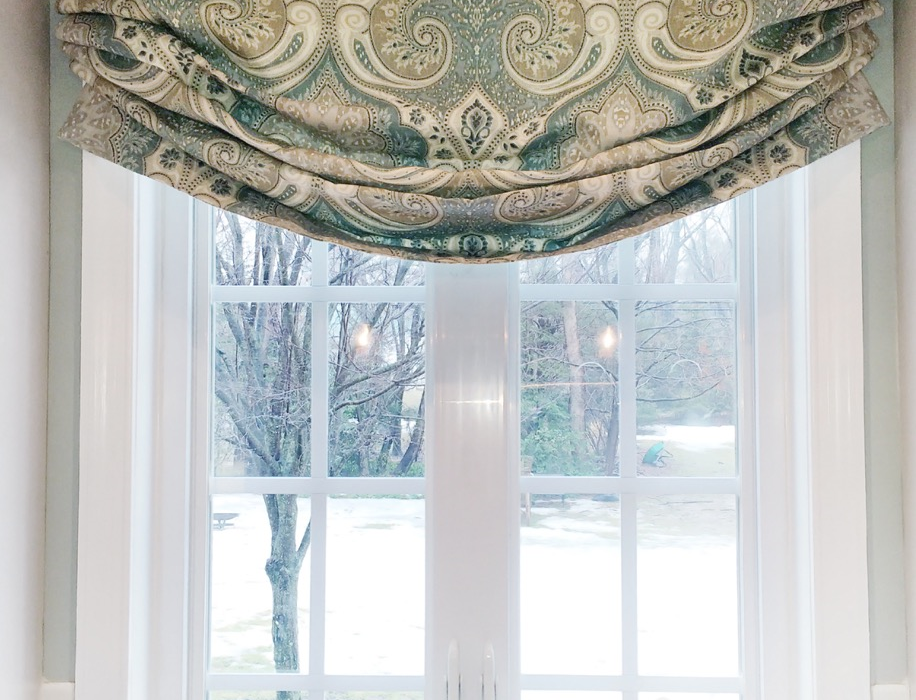 Regardless of the roman shade style you select, Drawn shades are of the highest quality and hand-finished with close attention to details. Every shade has a fabric covered mounting board, high quality sateen lining, back cording to federal safety regulations, metal dowel and a convenient mounting instruction guide. Additionally, shades have self-piping along the top, with particular care to pattern match the weld provided the fabric repeat allows.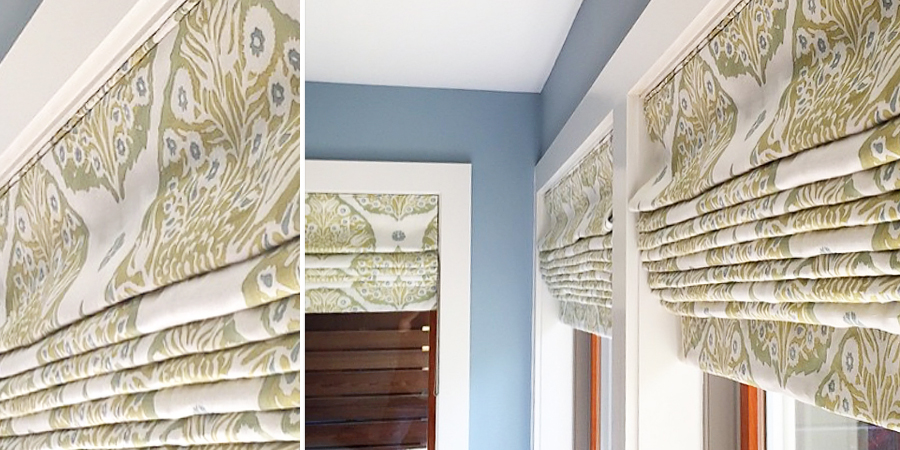 How do I measure my window for a roman shade?
It;s very important to get the measurements right so your shades will look, fit and operate properly. Like the perils of sizing down ½ size in the shoe department, being off ½" on inside mount shades can leave you in a world of hurt.  Luckily, we can help get that 'Cinderella' fit.
The first step is to decide on an inside or outside mount. Inside mount shades fit "inside" the window casing or opening.  Outside mount roman shades extend 1-3 inches above and beyond the sides of the window casing.  It's mostly personal preference, but there are some things for you to consider.  Inside mounts can give a clean, waterfall type look and will show off beautiful moldings.  Outside mounts can be hung to give the illusion of a larger window and help reduce some outside light coming in.  One you've determined your mounting style, click here for our handy measuring guide to get started.
Which fabrics and trims work best for a roman shade?
So many gorgeous fabrics are available today AND many can be found at great prices! Cotton blends and linen's texture bring a freshness to your decor and finish off window shades nicely without overpowering them.
A medium weight, drapery fabric with a width of 54+ inches is the best choice. Heavier weight fabrics put strain on the cord control and may result in needing an upgraded cord system.  And do take note that online fabric sources usually sell "seconds" and sometimes fabrics arrive with flaws and defects.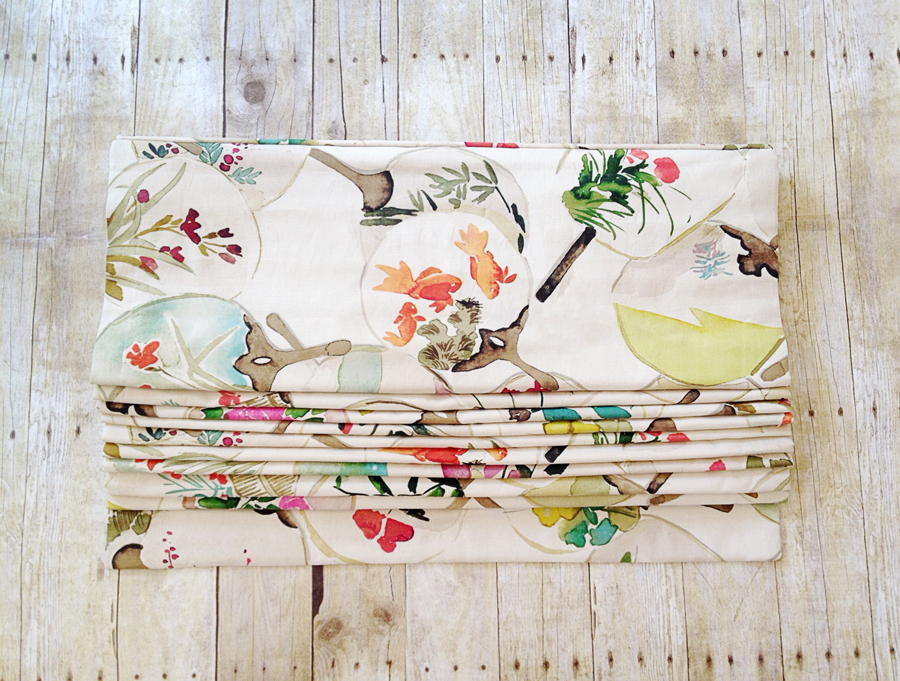 When choosing a very large fabric pattern, especially for shades on multiple windows, keep in mind patterns are always centered on each of your shades and this can result in needing more fabric. If you ever have a question about the suitability of your fabric or yardage, just contact us and we'll advise you.
Adding trims, tassels and banding shades is all the rage now and there are many stunning styles and colors to choose from. A banding in a coordinating fabric or grosgrain ribbon just along the bottom or sides of your shade adds that special detail and will make the roman shade uniquely yours.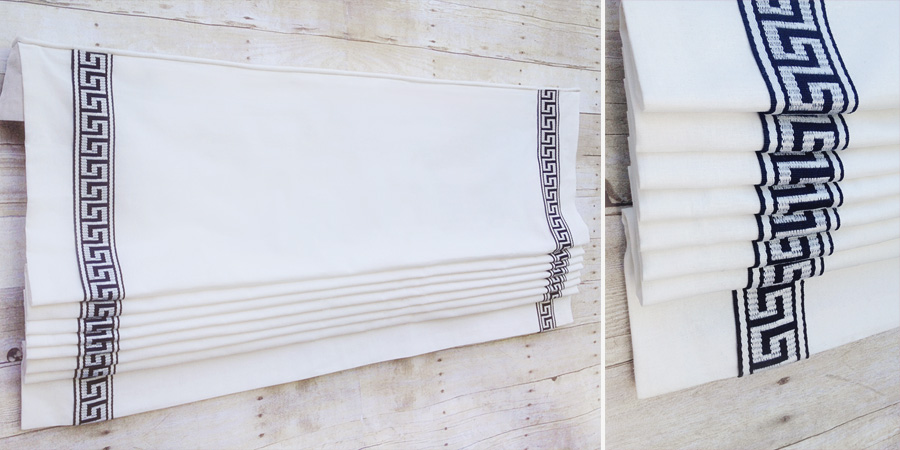 We hope these tips helped you learn more about roman shades and how they can update your style and brighten up your home decor. Be sure to visit our Etsy shop to see examples of  client's shades and available fabrics we offer. And sending in your own fabric is ok with us too!